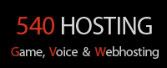 Yes thats right only 50p a slot.
Add £1 to your order and get a Public Server!.

For even more discount use the code: "pbbans"

To Order Click on the game required here

All Services are run on Dual and Quad Xeon servers ensuring smooth, fast, and low pings at remarkable prices.
(Servers located in UK-London )

Automated Ordering System
540Hosting has a fully automated system, which enables Instant Setup of Game/Voice/Web services within 10 minutes

24/7 Support
Staff are not only available during the day, but as gamers ourselves, we are normally online till 3.00am

Low Pings - Low Low Prices
With running on a multi tierd 100Mb network we can ensure low pings even at peak times, plus we do not overload our servers

Game Control Panel Features
One Click Mod & Map installs
One Click Steam & Punkbuster Updates
Preconfigured Server configs for fast downloads
FTP and Filemanager access
Automatic Server restarts

More information and deals located within our website.

www.540hosting.com

Kind Regards,
Rob
Edited by 540H-Rob, May 20, 2009 - 07:32 AM.